Also in Spanish, Ukrainian, French, Italian, German,, Chinese, Dutch, Hebrew, Vietnamese, Russian Portuguese and Hungarian.
If you can shoot well, all you need is a disposable, toy camera or a camera phone to create great work. If you're not talented, it doesn't matter if you buy a Nikon D3X or Leica  your work will still be uninspired.
It's always better to spend your time and money on learning art and photography, not by spending it on more cameras.
Why is it that with over 60 years of improvements in cameras, lens sharpness and film grain, resolution and dynamic range that no one has been able to equal what Ansel Adams  did back in the 1940s?
Ansel didn't even have Photoshop! How did he do it? Most attempts fall short, some are as good but different like Jack Dykinga, but no one is the same.
1.Try to tell an American he can't, and he will: Man Uses Barbie Fishing Rod for Record Catch!
1200 × 675
Why is it that photographers loaded with the most extraordinary gear who use the internet to get the exact GPS coordinates of Jack's or Ansel's photo locations and hike out there with the image in hand to ensure an exact copy (illegal by US copyright laws and common decency), that they get something that might look similar, but lacks all the impact and emotion of the original they thought they copied?
I'm not kidding. A bunch of these turkeys used university astronomers to predict the one time in almost two decades that the conditions would match and had 300 of the clueless converge at just the right spot. They still didn't get the clouds, snow or shadows right. This makes Ansel or any other creative artist cringe. Of course they didn't get anything like what they wanted. Art is a lot more.
Compelling photographs come from inspiration, not duplication.
Someone asked "If I got a camera with only 6 or 7 MP, can I make good pictures with it?"
That reminds me about the guy who breaks a wrist and asks his doctor: "Doctor, will I be able to play the piano after this heals?" The doctor replies "Absolutely, no problem!" The man laughs, and points out that that's great, because he never could play the piano before!
Buying a Bösendorfer  doesn't mean you can play the piano. Buying a great camera doesn't mean you can create compelling photographs. Good pianists can play on anything and a good photographer can make great images with a disposable camera.
As we all saw in The Blues Brothers , give Brother Ray  a keyboard with a sticky action and he'll play so movingly that the whole town will be up and dancing.
Cameras don't take pictures, photographers do. Cameras are just another artist's tool.
Why is it that even though everyone knows that Photoshop  can be used to take any bad image and turn it into a masterpiece, that even after hours of massaging these images look worse than when one started?
Maybe because it's entirely an artist's eye, patience and skill that makes an image and not his tools. Even Ansel said "The single most important component
2.of a camera is the twelve inches behind it."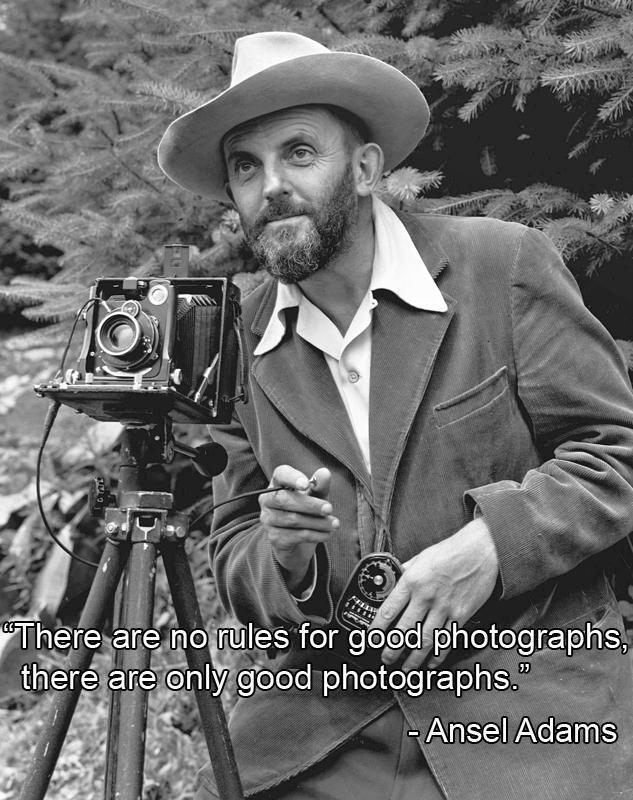 633 × 800
A camera catches your imagination. No imagination, no photo – just crap. The word "image" comes from the word "imagination." It doesn't come come from "lens sharpness" or "noise levels." David LaChapelle's  work is all about his imagination, not his camera. Setting up these crazy shots is the hard part. Once set up, any camera could catch them. Give me David LaChapelle's camera and I won't get anything like he does, even if you give me the same star performers.
The only reason I have a huge lens in my photo on my home page  is so I don't have to say "photographer" or "photography." The lens makes it obvious much quicker than words. That's what visual communication is all about: thinking long and hard to make your point clearly and quickly. I haven't used that huge lens in years.
Just about any camera, regardless of how good or bad it is, can be used to create outstanding photographs for magazine covers, winning photo contests and hanging in art galleries. The quality of a lens or camera has almost nothing do with the quality of images it can be used to produce.
Joe Holmes' limited-edition 13 x 19″ prints of his American Museum of Natural History series sell at Manhattan's Jen Bekman Gallery for $650 each. They're made on a D70.
Another San Diego pro, Kirsten Gallon earns her living using Nikon's two very cheapest lenses, the 18-55 and 70-300 G.
There are plenty of shows selling shots from Holgas,  for a lot more money, just that those folks don't tell me about it. Holgas sell for $14.95, brand new, here.. You can see an award-winning shot made with a Holga hanging in Washington, D.C.'s Hemicycle Gallery of the Corcoran Museum of Art. in their 2006 Eyes of History competition of the White House News Photographers,  Association here.
Walker Evans, once said "People always ask me what camera I use. It's not the camera, it's – – – " and he tapped his temple with his index finger.
Jesus Christ's dad Joseph built a masterpiece of a wooden staircase in a church in New Mexico in 1873, and does anyone care what tools he used? Search all you want, you'll find plenty of scholarly discussion  but never of the tools.
Your equipment DOES NOT affect the quality of your image. The less time and effort you spend worrying about your equipment the more time and effort you can spend creating great images. The right equipment just makes it easier, faster or more convenient for you to get the results you need.
"Any good modern lens is corrected for maximum definition at the larger stops. Using a small stop only increases depth…" Ansel Adams, June 3, 1937, in a reply to Edward Weston asking for lens suggestions, page 244 of Ansel's autobiography. Ansel made fantastically sharp images seventy years ago without wasting time worrying about how sharp his lenses were. With seventy years of improvement we're far better off concentrating on making stunning photos than photographing test charts. Of course these large format lenses of the 1930s and today are slow, about f/5.6 typically. Small format and digital lenses work best at about 2 stops down.
Buying new gear will NOT improve your photography. For decades I thought "if I only had that new lens" that all my photo wants would be satisfied. Nope. I still want that "one more lens," and I've been shooting for over 30 years. There is always one more lens. Get over it. See "The Station " by Robert J. Hastings, as published in "Dear Abby" in 1999, for a better explanation.
3.The camera's only job is to get out of the way of making photographs.
1024 × 683
Ernst Haas  commented on this in a workshop in 1985:
Two laddies from Nova Scotia had made a huge effort to be there and were great Leica fans, worked in a camera store, saved to have them and held Ernst on high for being a Leica user (although he used Nikons on his Marlboro shoots, when the chips were down).
About four days into the workshop, he finally maxxed out on the Leica adoration these kids displayed, and in the midst of a discussion, when one of them asked one more question aimed at establishing the superiority of Wetzlar, Ernst said, "Leica, schmeica.  The camera doesn't make a bit of difference.  All of them can record what you are seeing.  But, you have to SEE."
Nobody talked about Leica, Nikon, Canon or any other brand of camera equipment for the rest of the workshop.
He also said, "Best wide-angle lens?  'Two steps backward' and 'look for the ah-ha'."
(This Haas anecdote comes from Murad Saÿen, the famous photographer from Oxford, Maine over whom people are all abuzz. Many say he emerged from the back woods as a cross between Eliot Porter and Henri Cartier Bresson. I found at least three websites claiming to be Haas' official one here and here .)
You can see some of the world's best photography here  by a fellow who says the same thing here. Here's  another load of data which also confirms why owning more lenses just makes worse photos. I made these B/W photos here  with a 50 year old $3 box camera more primitive than today's disposables.
4.Andreas Feininger (French, b. 1905 – d. 1999), said "Photographers — idiots, of which there are so many — say,
1600 × 1421
"Oh, if only I had a Nikon or a Leica, I could make great photographs." That's the dumbest thing I ever heard in my life. It's nothing but a matter of seeing, thinking, and interest. That's what makes a good photograph. And then rejecting anything that would be bad for the picture. The wrong light, the wrong background, time and so on. Just don't do it, not matter how beautiful the subject is."
People know cars don't drive themselves, typewriters don't write novels by themselves and that Rembrandt's brushes didn't paint by themselves. So why do some otherwise intelligent people think cameras drive around and make pictures all by themselves? The most advanced, exotic and expensive car can't even stay in the same lane on the freeway by itself, much less drive you home. No matter how advanced your camera you still need to be responsible for getting it to the right place at the right time and pointing it in the right direction to get the photo you want. Every camera requires you to make manual adjustments now and then as well, regardless of how advanced it is. Never blame a camera for not knowing everything or making a wrong exposure or fuzzy image.
Even a good driver in a crummy car like a Geo Metro can escape from multi-car police chases in broad daylight. It's the driver, not the car. Read that one here.